Welcome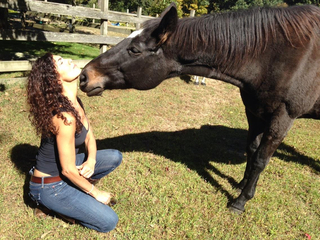 Welcome.

This site offers just a fraction of my published writings, a blog and my resume. The photograph above is me with Raffles in Bedford, NY. My husband and I took care of her in retirement after a good life of horse shows. She and I shared a special bond.

Aside from my love of animals and creatures, writing and editing has always been my passion, in part because I constantly seek the truth and honesty in every facet of life.

Many recent writings revolve around the business of public school districts in the United States for a B2B magazine, District Administration. In addition, I have written stories that cover social issues, health news, hospitals, politics, natural disasters, food and recipes, men's fashion, cops and fire, town boards, entertainment, zoning boards, school boards and the TWA Flight 800 crash in 1996.

A highlight of my reporting days was "interviewing" Hollywood director Steven Spielberg, when he was in Mystic, Conn., to film a few scenes for his 1997 movie, La Amistad. It wasn't so much an interview, but rather, a concerted effort to ask questions after chasing him down a narrow, cobblestone pathway during a scene he was envisioning. (It stands out because it was so absurd that I even tried to talk to him while he was directing a film.)

My stories have been published on the sites of Discovery Education, The Blue Book Building & Construction Network and AmeriCares. My articles have also appeared in the magazines of District Administration, University Business, Natural Awakenings, Cupboard, a now-defunct publication for foodies, and MR fashion magazine. And I have been published in the following newspapers: Connecticut Post, Record-Journal, Stamford Advocate, Daily Star and Darien News-Review in Connecticut.

I am a member of the Authors Guild.